AMERICA PROUD
AMERICA PROUD
'MERICA PROUD
AMERICA PROUD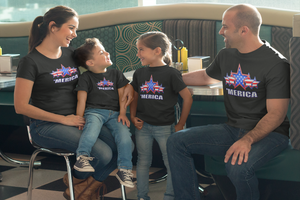 'MERICA PROUD!
'MERICA COLLECTION!
Get 1 For Everyone in the FAMILY!
We have sizes for everyone!
Men, Women, Youth & Infant Sizes & Colors
We've also added Customized Coffee Mugs and Beer Steins to compliment the "MERICA Designs.
ORDER your CUSTOMIZED T-Shirt, Long-Sleeve, or Hoodie TODAY!
Subscribe to our newsletter
Promotions, new products and sales. Directly to your inbox.